Totem Pole in Algonquin Park
Dan Bowers, of Whitney and Area Algonquins, came across a massive eastern white pine toppled by the high winds during a devastating storm near his home in August 2013. When he first discovered the fallen tree, Bowers said it spoke to him in a way that he had not experienced before.
"I passed by and saw him laying there and could not go by without feeling something in my heart. I could see the life of the Grandfather being drained as the sap began to drip on the earthly tears. He stood there for over 100 years and gave us life as we all walked by. I knew then it was what Creator wanted, to show respect for his life."
The following winter, Dan decided to honour the Grandfather by carving a totem pole from the ancient tree. Although he had never carved a totem pole in his life, each night he would carve late into the cold evenings with the Grandmothers shining down on him, keeping watch as the seasons changed.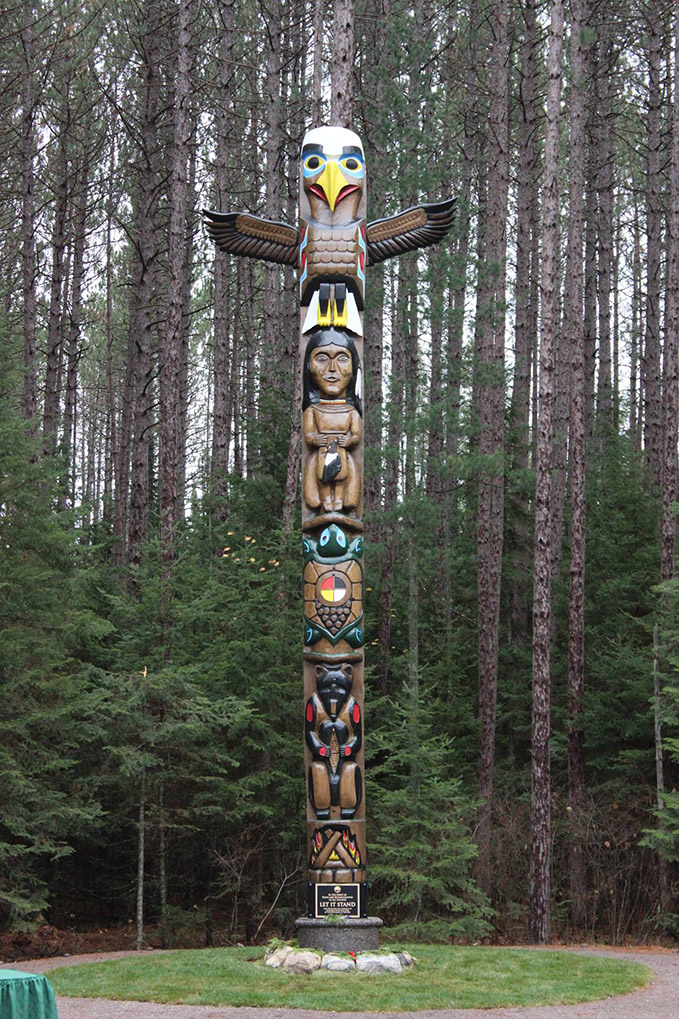 As a Fire Keeper for more than twenty years, Dan had listened to the stories of Elders from all different nations, including those who had been placed in residential schools. As he carved, the stories of these Elders and of the ancestors spoke to him once again. In carving the totem pole, Dan hoped to honour these voices and their stories.
On October 25, 2015, more than 300 people gathered in Algonquin Park to celebrate the totem pole's new home at the East Gate of the park. In the spirit of peace and reconciliation with all nations, as well as a way to show respect to all cultures, Dan Bowers presented the totem pole to Algonquin Park on behalf of the AOO and the Whitney and Area Algonquins. Park Superintendent Dave Coulas, who had worked with Bowers from the beginning to create a space for the totem pole, was on hand for the presentation.
Although a totem pole is not a traditional way of expressing Algonquin culture, Bowers said that carving the totem pole was his way of sharing Algonquin culture with future generations while honouring the ancestors.
"Looking back on our Elders and our ancestors before us I think of the hardships they had to face," Bowers said. "This is my way of giving back to them. It is not just for the people – it's also in recognition of what our ancestors went through. It is in honour of them."